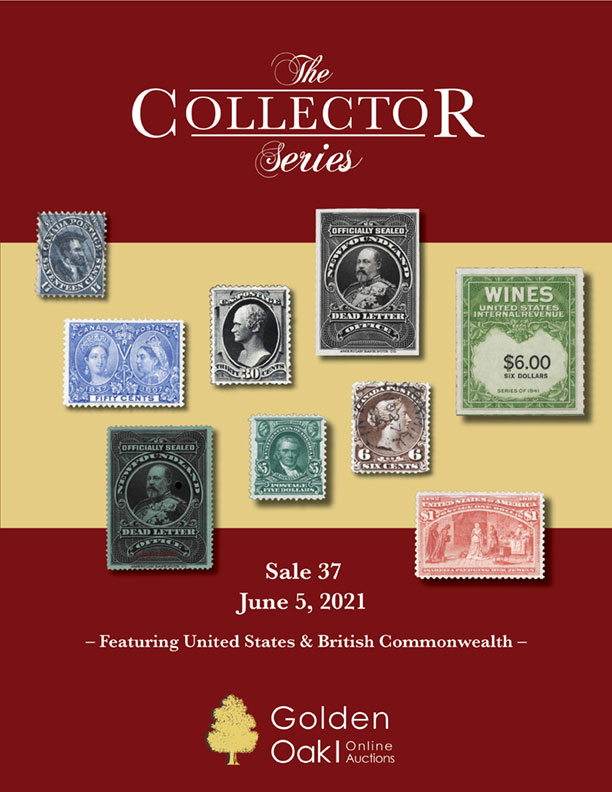 Auction 37
June 5, 2021
Pre-sale bidding became available on our web site on Wednesday, May 26,
and on Stamp Auction Network.
Pre-sale bidding ended 2 hours before the sale started.
Live bidding on the sale began Saturday, June 5, 2021
at 10AM CDT (11AM EDT, 8AM PDT).
Live bidding during the sale was available through
Stamp Auction Network.

View a PDF of the sale
We are pleased to offer our 2nd Collector Series Sale of the year which features United States and British Commonwealth stamps with special emphasis on Canada and Provinces. Additionally, this sale boasts a wide range of U.S. including some rare classics and a lovely section of revenues, as well as interesting and comprehensive large lots for the collector and dealer alike. The entire sale has something for every budget, specialty, and condition ranging from fine to gem 100; both mint and used. This sale is a true representation of its moniker.

Buyer's premium for this sale is 20%. We are required by law to collect sales tax for successful purchasers in Texas and in California (those with resale licenses excepted of course). Please bid accordingly - and good luck with your bids!