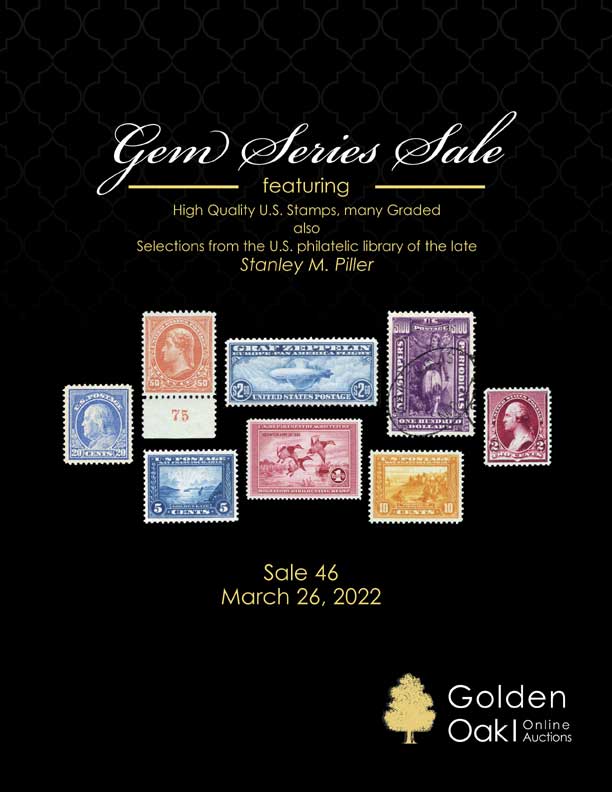 Auction 46
March 26, 2022
Pre-sale bidding was available on our web site on Wednesday, March 16, 2022,
and on Stamp Auction Network.
Pre-sale bidding ended 2 hours before the sale starts.
Live bidding on the sale began Saturday, March 26, 2022
at 10AM CDT (11AM EDT, 8AM PDT).
Live bidding during the sale was available through
Stamp Auction Network.

View a PDF of the sale
Our Sale #46, the 6th in our U.S. Gem Series sales and our first for 2022, is an entire auction devoted only to high-grade US stamps. This sale boasts hundreds of lots, from a minimum grade of VF all the way to Gem 100, with the vast majority being XF90 or Sup 98 and up. You will find gorgeous mint stamps, used stamps and plate blocks with estimates ranging from $30 into the thousands. This sale has everything from classics to modern, plus airmail and other back-of-the-book all in incredibly high grades or quality. There definitely is something for every serious US collector in every price range!

Plus we have the pleasure of offering selections from the U.S. philatelic library of the late Stanley Piller, including many important titles of value for the serious U.S. philatelist. We will be offering more in later sales.