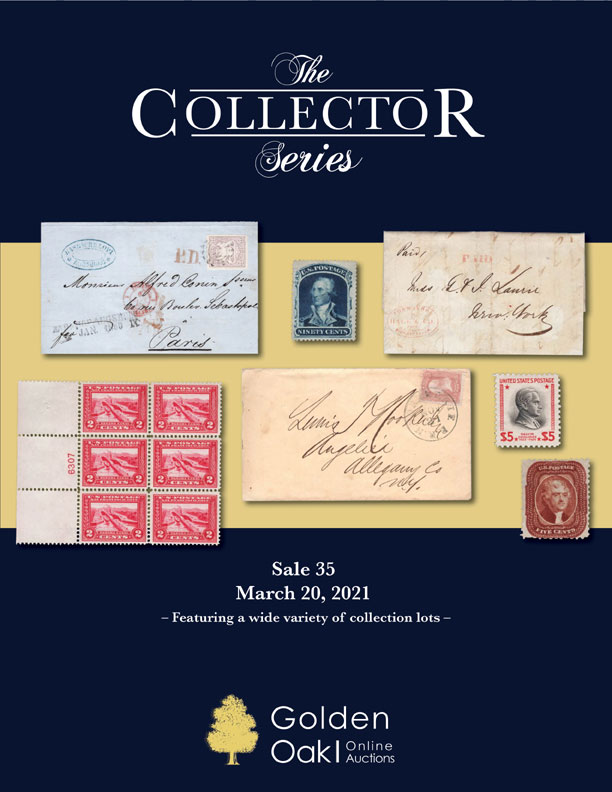 Auction 35
March 20, 2021
Pre-sale bidding was available on our web site beginning Wednesday, Mar. 10,
and on Stamp Auction Network.
Pre-sale bidding ended 2 hours before the sale starts.
Live bidding on the sale began Saturday, Mar. 20, 2021
at 10AM CDT (11AM EDT, 8AM PDT).
Live bidding during the sale was available through
Stamp Auction Network.

View a PDF of the sale
Our sale 35 is the first in our new Collector Series, presenting a wide range of material, from collectors and for collectors, including numerous collector-made collections and collection balances, plus loads of interesting and unusual material to pique the interest of just about any collector, beginning to advanced.
This sale features both US and foreign stamps in a wide variety of areas, as well as postal history such as fancy cancels, advertising covers, RPO's and foreign destinations. Also included in this sale is a huge selection of collection lots from around the globe. The collection and balance lots are imaged on our web site, however if there's a particular lot that interests you, where you would like more images or to view this lot via video, Skype or FaceTime please don't hesitate to ask!!
And finally for this particular sale we are now offering telephone bidding during the auction - on a first come first serve basis!