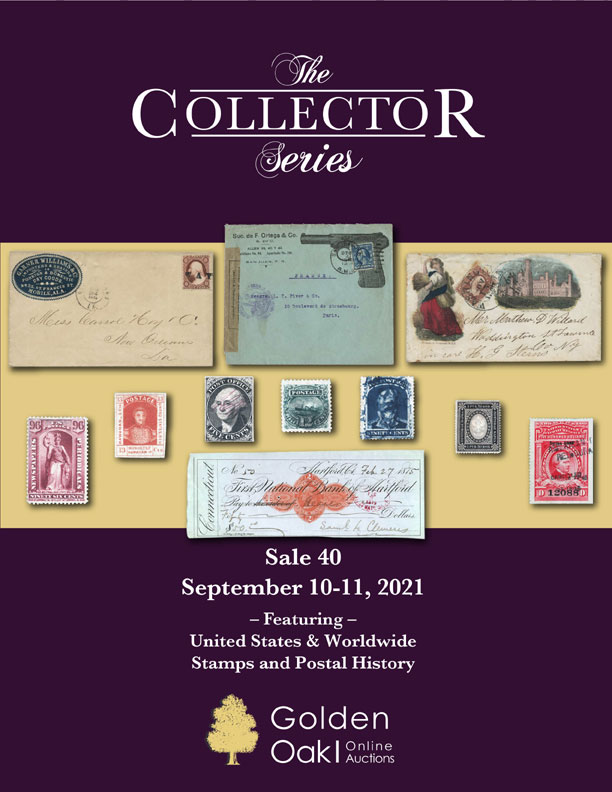 Auction 40
September 10-11, 2021
Pre-sale bidding was available on our web site on Wednesday, September 1,
and on Stamp Auction Network.
Pre-sale bidding ended 2 hours before the sale starts.
Live bidding on the sale began Friday, September 10, 2021
at 10AM CDT (11AM EDT, 8AM PDT)
and on Saturday, September 11, 2021
at 10AM CDT (11AM EDT, 8AM PDT).
Live bidding during the sale was available through
Stamp Auction Network.

View a PDF of the sale
We are pleased to announce our 4th Collector Series Sale of the year which features United States and Worldwide stamps and postal history. Highlights include:
U.S. advertising covers - a quality selection
U.S. patriotic covers and other Civil War related including autographs
U.S. fancy cancels
U.S. 19th century issues on cover, including foreign mail
U.S. airmail covers, including first flights and Zeppelins
U.S. special delivery covers
U.S. local covers
U.S. postal cards - an extensive selection including collections and dealer's stocks
U.S. stamps, classics to modern errors including rarities
U.S. airmail stamps and other back-of-the-book including numerous newspaper stamps
U.S. revenues - an extensive selection, including a Mark Twain signed check
Hawaii
British Commonwealth
Europe and Asia, including a nice selection of Russian stamps, Empire to Soviet period
Collections
Something for almost everyone!

Buyer's premium for this sale is 20%. We are required by law to collect sales tax for successful purchasers in Texas and in California (those with resale licenses excepted of course). Please bid accordingly - and good luck with your bids!