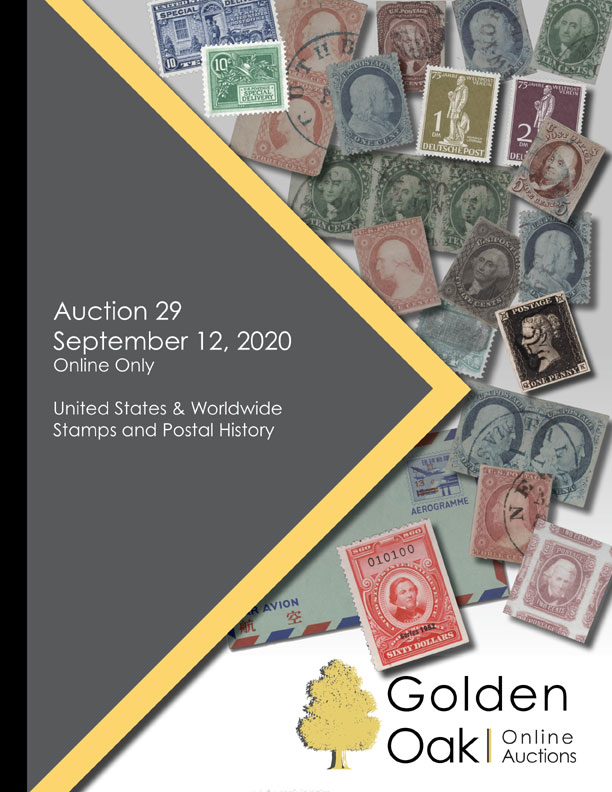 Auction 29
September 12, 2020
Pre-sale bidding was available on our web site
and on Stamp Auction Network
and on PhilaSearch.
Pre-sale bidding ended 2 hours before the sale started.
Live bidding on the sale began Saturday, Sept. 12, 2020
at 10AM CDT (11AM EDT, 8AM PDT).
Live bidding during the sale was available through
Stamp Auction Network.

View a PDF of the sale
Our internet only sale 29 featured our largest offering yet of both British Commonwealth and Europe & Colonies. Additionally, we had an interesting selection of U.S. and worldwide postal history. Our United States stamps section was replete with high quality items, both mint and used, as well as many meaty and interesting collection and group lots - all of which were imaged in their entirety on our website.

Excited for your lot to be called but not excited about the wait? Opt-in to our text message program! You'll receive a text message when your item is 25 lots away.

Here is how you opt-in: Text goldenoak, all lowercase with no spaces to (833) 679-1015 then email us your preferred lots to support@gooaucs.com.
*Please note: all of those requests MUST be sent to us 24 hours before the live auction begins.